Manali is one of the most popular and fun destination for tourists. During summers, footfall of people increases here as everyone seeks for a respite from the heat of northern plains of India. And of course, there are various things to do in Manali that no one is left out to get engaged. Be it enjoying adventurous activity, admiring the nature's beauty, photographing and the list goes on. Among many let us have a look at top 10 things to do in Manali.
A holy bath in Vashisht Hot Spring

Rafting in White waters of river Beas

Shopping and a lazy walk on Mall road

Playing with snow at Rohtang Pass

Adventurous Paragliding in Solang

Trek to Beas Kund

Photographing the Moments

Relishing Food and Music in cafes

Games at Manali club house

Seeking Blessings of Almighty
A Holy Bath in Vashisht Hot Spring
Near about 4000 years old, Vashisht temple is situated at a distance of 3.5 km from Manali bus stand. Located near the auspicious river Beas, this temple is famous for its healing hot spa, a natural hot spring, which is believed to have curing power of many diseases such as Arthritis.
Temple remains open from 7 am to 9 pm. While timings for the holy dip is from 7 am till 9 am in morning and 1 pm till 9 pm in evening.
Rafting in White Waters of River Beas
Mystical white waters of river Beas are serene as well as has hurtling rapids that attracts many tourists to do rafting on its 14 km stretch. Manali, being a hub of adventure activities, tourist enthused for same don't miss rafting here.
And the sport becomes more blissful with the ethereal beauty that one observes on both banks of the river. Thus, rafting is a must to do thing in Manali for all adventure enthusiasts.
Shopping and a Lazy Walk on Mall Road
It may sound lame, but one of the best things to do in Manali could be just walking on its streets. Strolling on Mall road of Manali and just hanging out is fun and relaxing to many.
Although, Mall road is an area which ladies can't resist. Low-cost shopping is lucrative over there. Shawls, jewelry, Manali souvenir and many things to shop. Or you may enjoy local street food and appease your taste buds.
Playing with Snow at Rohtang Pass
Road banks temporarily embossed with 10 feet wall of white cotton water powder aka snow. Going through such a dreamy pathway is unreal yet real if you go to Rohtang pass. It should be a must to do thing in your bucket list.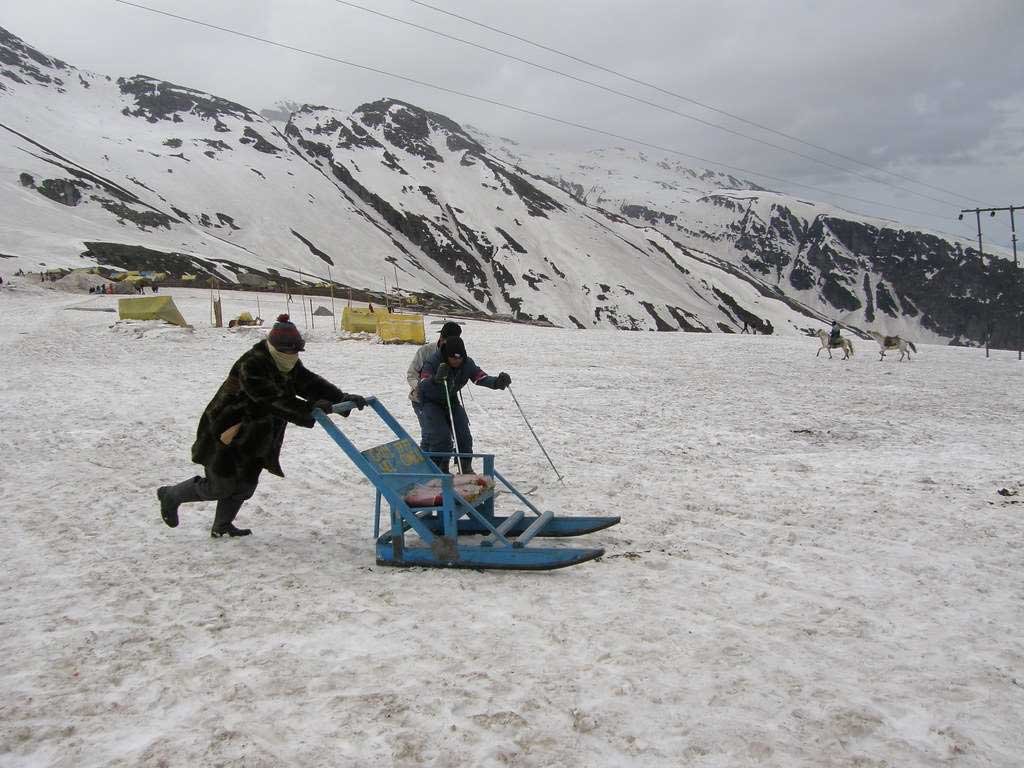 Once you reach it, you will be astonished to see the white paradise on earth. Snow, snow and just snow all around. So, just don't stop yourself and grab some of it and throw snow balls at each other. Don't forget to capture the rapturous moments in camera as these beautiful memories you will be collecting to reminisce latter.
So much cold? How about some delicious masala Maggie or an omelet fried in Amul butter? OMG! You must be drooling reading this.
To have utmost fun, visit the place between September and October.
Adventurous Paragliding in Solang
Fly like a bird up above in the sky and gaze the snowclad mountains, flocks of pine and cedar trees, flowing river and unending lush green landscapes. How? It is possible, really. A thing to do when you visit Manali is plan a day to go to Solang valley and enjoy paragliding there. It will be an adventure, as well as utterly peaceful moment, when you would be gliding in the sky high.
Its location? Around 14 km from Manali, on the way to Rohtang pass
Trek to Beas Kund
Feel the hilly terrain underneath your feet by climbing the magical Beas Kund. As you climb on to your destination, you will observe the vast meadows surrounded by picturesque Pir Pranjal ranges. And between these ranges lies a secret Beas lake having emerald green water.
Camp at the site and cherish the scintillating stars in the clear sky at night. Lit some bonfire and sing songs that amuses you.
Photographing the Moments
Capture the scenic beauty with your smart phone or with a DSLR. It doesn't matter. What matters is moments of your visit needs to be preserved in the form of photographs and videos to reminisce the trip to Manali and of course, to plan it again.
And how would your close friends away from you, may be out of India would get a reminder on Facebook, after few years, that you and him went to the trip together? So, don't forget to post the pictures on social page and share the happiness you had during your trip with your close ones.
Relishing Food and Music in Cafes
It's snowing outside. Lights are dim. Someone on the podium is singing a number of Coldplay. Hot dumplings, typically Tibetan cuisine, with spicy sauce is on table in front of you. You and your friends are enjoying the evening in a café in Manali. Surreal! Isn't it?
Well, get set your imagination to come out in real world and visit Manali to do this. It would be one of the finest things to do in evenings in Manali. A laid-back experience.
Games at Manali Club House
One stop place to have a good time, Club house Manali has all.
Were you born in 90s? played carrom, table tennis in your childhood? Want to relive? It's all there in the Club house. Not just that, it also has video games, a pool, a skating rink, a bar, a restaurant and much more. Go alone, with friends or with family, it is a "paisa vasool deal".
You may also wear a helmet and drive the low profile go Karting car. Don't worry if you don't know driving. Tracks are protected with rubber tires on both sides.

Seeking Blessings of Almighty
"Last but not the least" would be an incorrect sentence to use for this thing to do in Manali. Seeking blessings from almighty is every moment to do thing, whether you are in Manali or anywhere else in this world. We are here due to consent of the supreme. So, never miss to thank him, even in Manali.
Hidimba temple, Gurudwara Manikaran sahib and many Tibetian monasteries are den where supreme is believed to reside in. Besides peace, you get to admire the architectural marvel and learn cultural values at these holy places.
Do share this with others. And plan your trip with us.